Magento 1
Documentation index
---
Installation
Will be revealed shortly... !
How does it works
Admin stock alert enables people dealing with stock management of a Magento 1 store to receive daily or weekly email notifications when a defined product, or product category reaches a defined amount of stock.
Alert settings
To set an alert, go to the Magento back office menu : →Catalog →Admin Stock Alert


Then click on :
→Add New Alert




Now fill in the different information :
Alert Information
Alert Name : this name will appear in the grid with the other stock alerts you created.
Description : daily alert for low stock of Brand red articles
Status : Active or Inactive alert
Store view : select the store view you want the alert rule to apply.



Conditions
Now set the conditions that determine your stock alert rule.
For example, you want to receive a notification when the stock of blue teeshirts reach 4 units.


Admin stock alert conditions works like the promotion conditions tool.
Select if ALL or ANY of the conditions are TRUE or FALSE



Then choose relevant product attribute, for instance : SKU, color, manufacturer and the Inventory Attribute (eg: quantity = 4).
IMPORTANT :
By default the following attributes are available :
Attribute Set
Category
Quantity
Manage stock
Stock availability
Of course you can add all the other attributes to your alert.
To add them in the dropdown menu, follow this steps :
Catalog → Attributes → Manage Attributes :

Select the attribute you want to add to your stock alert conditions :
Edit Product Attribute
→ Use for Promo Rule Conditions : YES
Choose the attribute, click on it to open the window "Edit Product Attribute "SKU"
Use the promo rule conditions. : YES
Actions
First set the information provided in the email :
email addresses : recipient's email address, you can add several addresses by separating them with a comma.
attribute to show in the emails grid :
This will define which information will be displayed in the email.
Default attributes are : name, sku, qty, is in stock (they will appear in the same order in the email's grid).
To customize your stock alert email, you can add other any attributes:
To do so, you need to add the attribute_id in the field. You can find all the attributes id by clicking on the link : You can find product attributes here :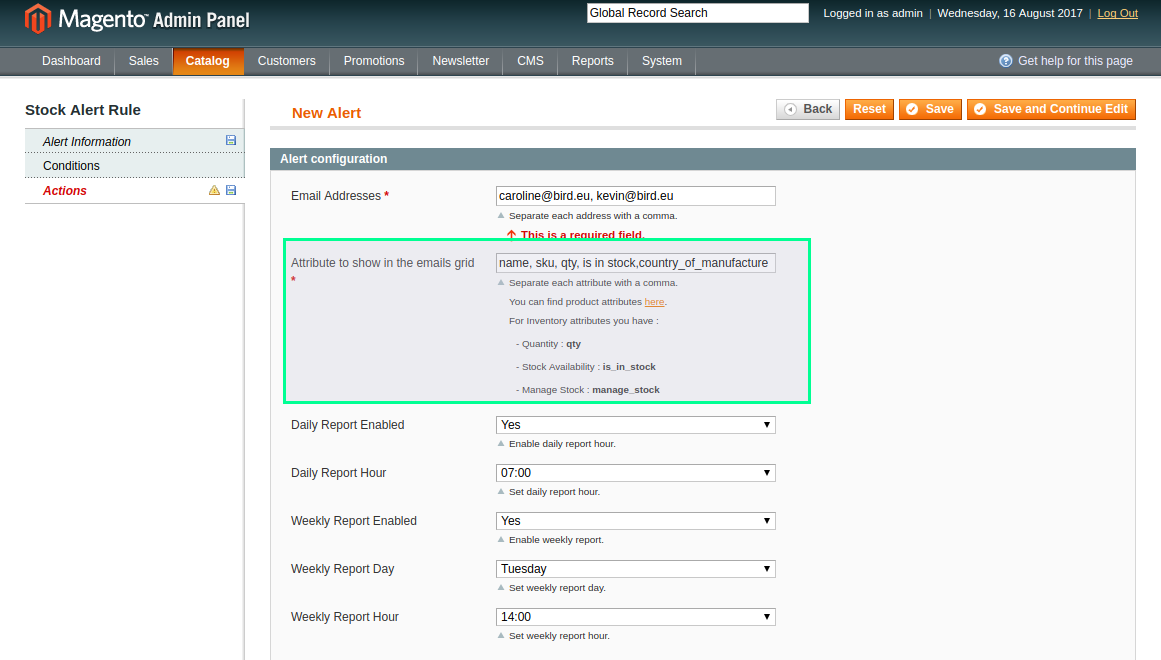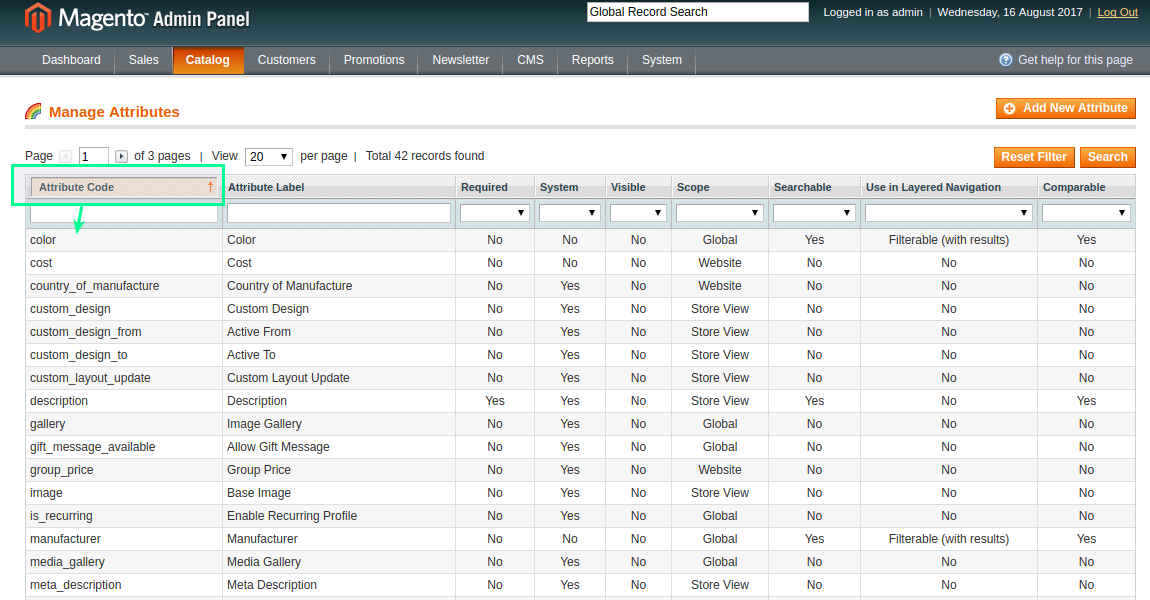 Then set the frequency of the notifications (daily or weekly) :
Daily report enabled : YES or NO
Daily report Time : every hour from 00:00 to 23:00
Weekly Report enabled : YES or NO
Weekly report Day : select one day of the week
Weekly report hour : every hour from 00:00 to 23:00
If the conditions are not verified, you won't receive any email.
Email settings
You can manage some settings like the email sender or which email template will be used
System → Configuration → Blackbird extensions → Admin stock alert
Enabled : you can activate the notification system of not.
Email information : select the email sender
Report email Template : Choose the email template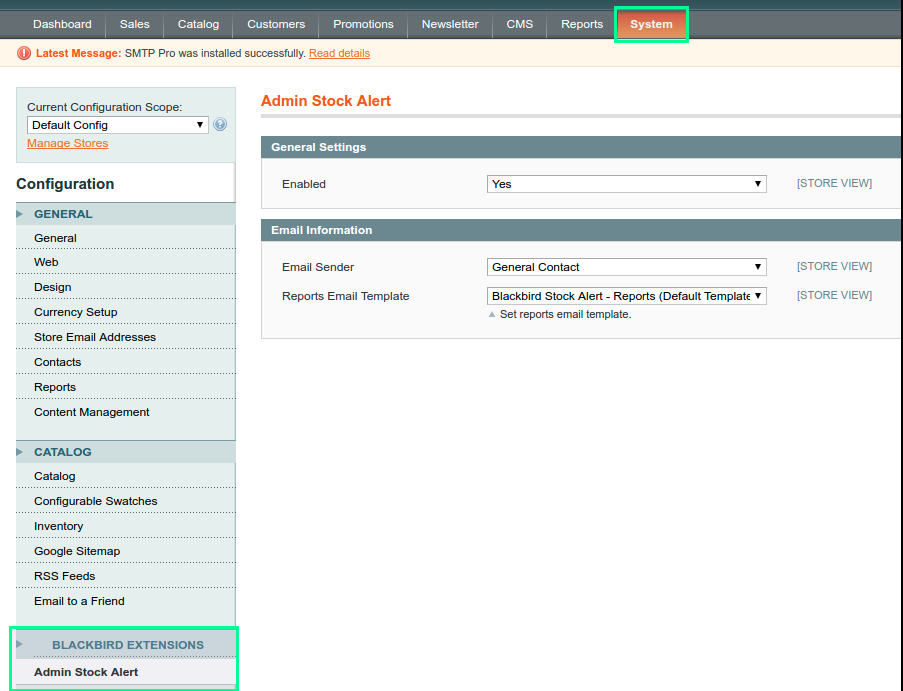 Templates of emails
It is also possible to add a new email template, for example if you need the email in different languages.
Too add a new template of email, go to System --> Transactional Emails--> + Add a new template.
Select the default template "Blackbird Stock Alert - Reports" and Load Template
Enter a new name for the template, add your changes or languages translations and Save the Template.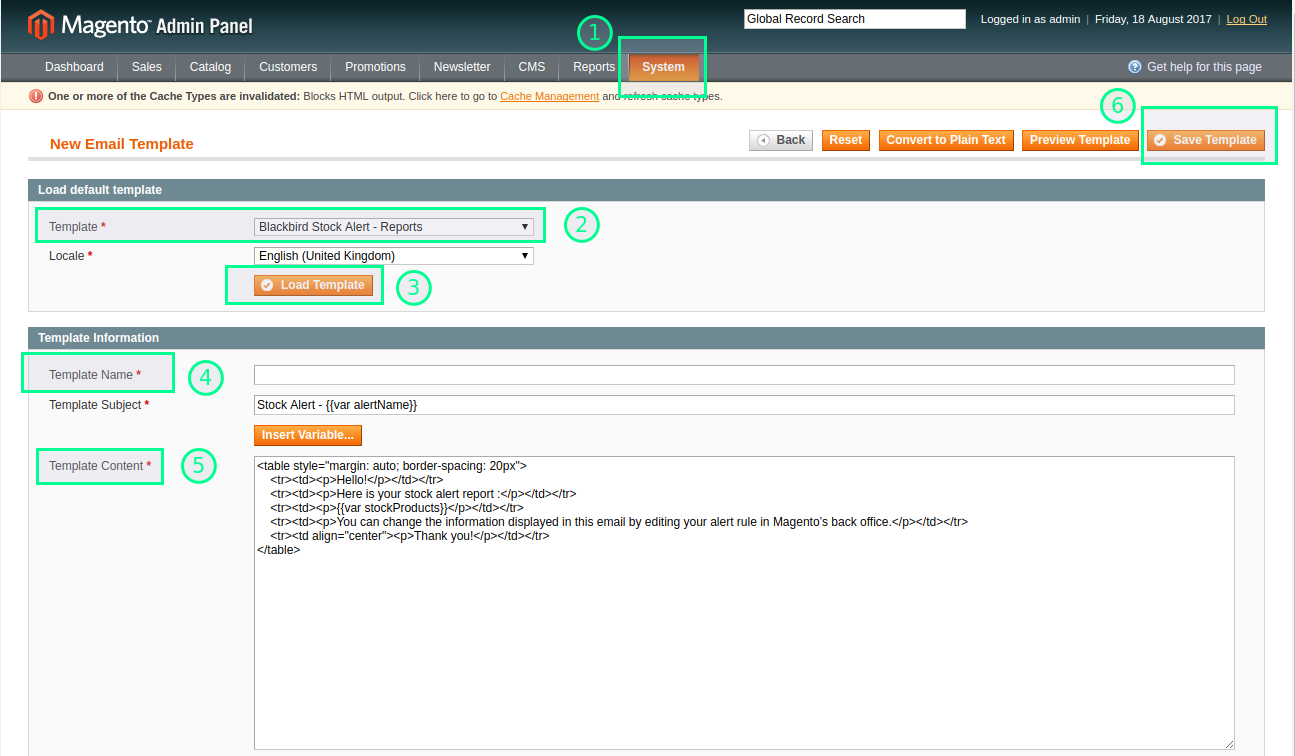 ---
Read more about the license.
For further information, feel free to contact us.