Help your pro customer enter and validate their VAT number
What is your attitude as a small town businessman when it comes to advertising or taking help of an advertising design agency to provide creative design solutions? I bet, more often than not it is on the lines of "What ever is left over, we'll use for advertising". Well, you are not alone.
Features
* Checking the VAT number while filling the forms using Ajax request
* Correcting the format mistakes (spaces, ISO code country, special characters)
* Autoselect the "Country" field if the ISO code is given in the VAT number
* Displaying a validation/error message below the field
* Define the JavaScript framework of the website in order to avoid jQuery/Prototype conflicts
* Add custom selectors to check VAT numbers on new fields
* Add "Country" fields selectors to autoselect the country if ISO code is given
What is VAT Number ?
A value added tax identification number or VAT identification number (VATIN) is an identifier used in many countries, including the countries of the European Union, for value added tax purposes.
In the EU, a VAT identification number can be verified online at the EU's official VIES website. It confirms that the number is currently allocated and can provide the name or other identifying details of the entity to whom the identifier has been allocated. However, many national governments will not give out VAT identification numbers due to data protection laws.
The full identifier starts with an ISO 3166-1 alpha-2 country code (except for Greece, which uses the ISO 639-1 language code EL for the Greek language, instead of its ISO 3166-1 alpha-2 country code GR) and then has between 2 and 12 characters. The identifiers are composed of numeric digits in most countries, but in some countries they may contain letters.
Foreign companies that trade with non-enterprises in the EU may have a VATIN starting with "EU" instead of a country code
source : Wikipedia (https://en.wikipedia.org/wiki/VAT_identification_number)
How to configure automatic tax calculation with VAT number
This VAT number allows the professionals to not pay taxes in transactions within european countries
To setup Customer configuration in Magento :
1. create a User group "Business VAT valid"
2. Go to Admin panel → System → Configuration → Customer Configuration → Create New Account Options
3. Enable Automatic Assignment to Customer Group: Yes
4. Tax Calculation Based On: Billing Address
5. Default Group: General
6. Group for Valid VAT ID – Domestic: Business VAT valid
7. Group for Valid VAT ID - Intra-Union: Business VAT valid
8. Group for Invalid VAT ID: General
9. Validation Error Group: General
10. Validate on Each Transaction: Yes
11. Show VAT Number on Frontend: Yes
Then setup a B2B taxe rule where the only selected country is yours (where the taxes must be payed) and assign it to your "Business VAT valid" user group.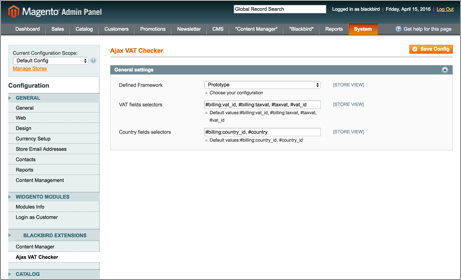 Online Demo
Use our online demo to experience the extension