Quick Order for Magento 2
Online demo
Use our online demo to experience the extension
Documentation
Quick Order by Blackbird
Studies are clear: the future of B2B commerce is digital!
As business buyers increasingly conduct their transactions, the lines between the B2C and B2B buying journey are becoming blurred.
Although B2B buying behaviors are becoming increasingly similar to those of B2C, there are still some very specific levers to this demanding clientele.
Among the major challenges of this type of business, the notion of saving time is essential: these orders often include a number of items, it is tedious, energy-consuming and time-consuming to repeat these orders manually.
The Quick Order solution for Magento 2 allows your customers to save time by importing in a few clicks a file containing all the desired references and adding them in bulk to the shopping cart in 1 step. Other features will also allow you to build customer loyalty with an optimized and intuitive user experience. By allowing your customers to easily enter all their wishes from one place without having to browse your entire online store, you also reduce the risk of shopping cart abandonment.
Features
Reduce search time and cart abandonment rate
Even if your internal mesh is well optimized, imagine the frustration of your wholesale and professional customers to manually search for each reference on your site before adding it to the cart, and this, for each of their repeated orders!
With Quick Order, your customers can import a CSV or XLSX file containing all their references in a few clicks. Transform this repetitive and time-consuming task into a new user experience that will free up their time for higher value business activities.
Adding additional lines, adding to the cart en masse or deleting the entire list are also a one-click process.
---
Personalization for an improved ordering experience
Save your B2B customers even more time importing their item list by allowing them to save their mapping configuration. This way, they won't have to fill in the correspondence between the columns in their CSV or XLSX file the next time they enter orders with Quick Order.
---
Help your customers with accurate information
Once the import is completed, error notifications have been set up to identify:
insufficient stocks,

unknown references.

Your users can then adjust lines by modifying item's ID and quantities.

---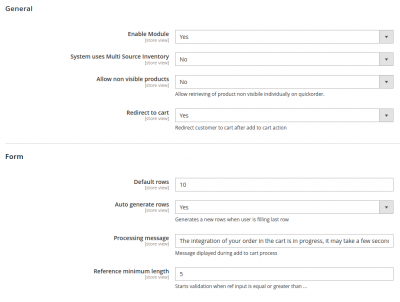 Simple back-office configuration
Adapt the extension to your own preferences and specificities.
In the back-office configuration area, you can :
Define a default number of lines.

Activate or deactivate the automatic generation of lines.

Enter the message that is displayed during the process of adding to the cart, in order to reassure your customers.
The minimum number of characters that a reference must contain.

---
More customer autonomy for a better customer service
As the trend in customer service is towards self-care, reduce your support team's costs by providing maximum autonomy to your B2B customers.

Accurate error messages during import allow them to adjust their order on their own without having to call your sales department.
Not only do you save them valuable time, but you also improve their shopping experience while relieving your customer service department.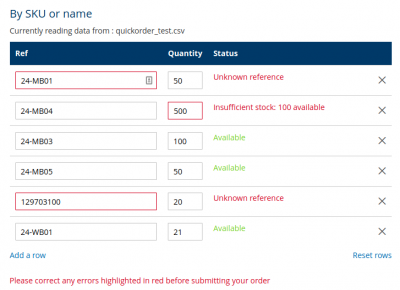 ---
MSI Compatible
If you manage your inventory in cross sourcing and not single sourcing, you will be relieved to know that our Quick Order solution is compatible with Magento 2's multi-source inventory feature, or MSI.
You will be able to indicate in the back-office configurations, if your system uses this functionality or not.

---