Monetico CM-CIC has been developed to help you to install and configure your electronic payment system on Magento 2
Before installing and use this extension, you should have an opened electronic payment terminals account from one of these following banks:
Crédit Mutuel
CIC
Desjardins
The allowed payment card are:
CB/Visa
EuroCard/MasterCard
American Express and PayPal (you should sign a contract with them)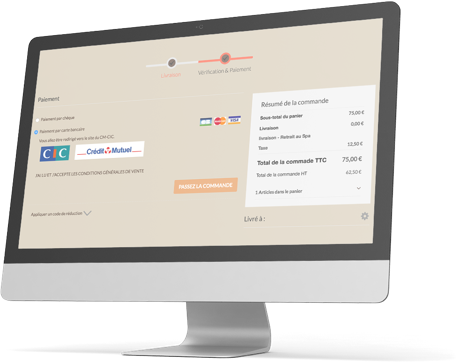 The Monetico Payment Extension for Magento 2 supports the authorisation method Payment Page. With Payment Page, the completion of payment occurs on the redirected Payment Page of Monetico.
By purchasing the Monetico from Blackbird for Magento 2 you gain, additionally to the software license, extensive support services. In order to guarantee the security, functionality and compatibility of the payment processing we continually release updates and upgrades.
You are granted access to the latest versions during 60 days after purchase. In case you encounter problems with the integration or with the running system, we offer you support by phone or e-mail. Optionally, you can also use the installation service of customweb ltd (entire configuration of the module in the shop as well as with Monetico). This service can also be ordered at later date.
How it works
Monetico is a gateway payment solution. Blackbird has developed a module to integrate this solution into Magento 2.x.
After placing the order, the customer is redirected to the Monetico server. The customer fill the payment form and a response is sended to your Magento. According the code response, and your configuration, the order is processed.
For further information and see the full process, visit this link: https://www.monetico-paiement.fr/fr/vendre-sur-internet/fonctionnement.html
How to configure
Before installing Monetico for Magento 2.x, sign up for a Monetico account. You can create an account at this link: https://www.monetico-paiement.fr/fr/contact.html
How to use
As seen previously you can modify your environment status by modifying the value of the 'environment' field. In order to use the Monetico solution, you should enable the extension and enable the solution in the payment methods configuration (Stores > Settings - Configuration > Sales > Payment Methods > Monetico).
Demo
Check out our admin demo.
Login: demo
Password: demo123
Documentation
For further documentation about Montico for Magento 2, please see the following link:
Check out the release notes.
LICENSE
Find out the licence: http://store.bird.eu/license/
For further information, contact us: http://black.bird.eu/en/contacts/
ROADMAP
Version 2.0.0
Released
One time payment method
Configuration:

TPE connection
Order states for each payment steps
Empty the customer cart
Custom cancel message
3D Secure specification (landing amount)
Test and production environment
Version 2.1.0
Released
IFRAME Integration
Configurable cron to cancel (change status) the orders of a status after a time laps
Add the Cofidis payment options: 3xCB, 4xCB
Add the PayPal payment option
Multi time payment method (1-2-3-4 times) NEW TPE
Debug mode (the ipn events are reported in the monetico log file)
Configuration:

Custom bank transaction description
Add the Express Payment option
Enable/disable the payment methods by amount
Set the percent range of amount by terms (multi-time payment method only)
Enable/disable the debug mode
Version 2.2.0
Not Planned Yet
Deferred payment method NEW TPE
Recurrent payment method NEW TPE
Refund action from the back-office
Partial refund action from the back-office
Manage all parameters returned by Monetico